Items filtered by date: December 2022
Tuesday, 27 December 2022 00:00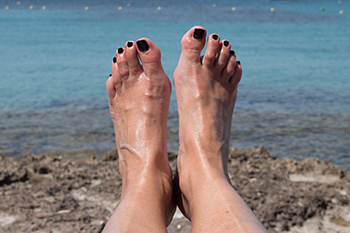 Many individuals often wonder what exactly toe jam is and how it is formed. Toe jam is a word given to describe the debris that can sometimes develop and accumulate over time in between the toes. Often, toe jam is composed of dead skin cells as well as lint from socks that are worn. Toe jam typically is not a serious or dangerous foot condition for many individuals. However, since it can cause an odor and might be potentially irritating, there are steps that you might consider taking to prevent toe jam from developing between the toes. One of the most important ways that one can prevent toe jam from developing is by regularly cleaning or washing the spaces in between the toes. This is particularly important if you are someone who is especially prone to sweating in the feet area. If you have any other concerns about toe jam, contact a podiatrist today.
If you have any concerns about your feet, contact one of our podiatrists from Family Foot Health Center. Our doctors can provide the care you need to keep you pain-free and on your feet.
Biomechanics in Podiatry
Podiatric biomechanics is a particular sector of specialty podiatry with licensed practitioners who are trained to diagnose and treat conditions affecting the foot, ankle and lower leg. Biomechanics deals with the forces that act against the body, causing an interference with the biological structures. It focuses on the movement of the ankle, the foot and the forces that interact with them.
A History of Biomechanics
Biomechanics dates back to the BC era in Egypt where evidence of professional foot care has been recorded.
In 1974, biomechanics gained a higher profile from the studies of Merton Root, who claimed that by changing or controlling the forces between the ankle and the foot, corrections or conditions could be implemented to gain strength and coordination in the area.
Modern technological improvements are based on past theories and therapeutic processes that provide a better understanding of podiatric concepts for biomechanics. Computers can provide accurate information about the forces and patterns of the feet and lower legs.
Understanding biomechanics of the feet can help improve and eliminate pain, stopping further stress to the foot.
If you have any questions please feel free to contact our office located in Rogers, AR . We offer the newest diagnostic and treatment technologies for all your foot and ankle needs.
Read more about The Importance of Biomechanics in Podiatry